Audio & Visual
Installation
SPECIALISTS
Get the most from
your music
and movies
Wessex Audio specialises in background music systems, pro audio, domestic multi room and home cinema as well as educational and special effect audio visual systems.

We have a wealth of experience of installing visual systems for bars, clubs restaurants, museums, hotels, retail, healthcare facilities, houses of worship and all types of entertainment complexes across the south of the UK with many happy clients as a result.
We are also a chosen audio contractor that work alongside other local business to give a complete package of works to the end client.

We deal with many leading brands within the AV industry to whom we are an accredited supplier of their products, we can also supply both new & warranted used equipment to suit any budget or system requirements.
We have large network of clients in the licence trade where we have designed, installed & maintained many audio visual systems.

From bars, pubs, nightclubs and entrainments suite's in hotels or holiday camp, we have a huge knowledge and experience to achieve the best results for the client.

Not only do we deal with audio system's we can help with effect lighting too
Educational - Exhibition.
A clients audio needs comes in many forms, some not as obvious as others. We have the experience to achieve the right result for the client.

We are able to customise the system to meet the client's expectations and create and experience for the end user.

From sound FX activated by push button, sound activated by motion sensors or running loop audio we are able to enhance the end users experience of any attraction.
Background music can set the mood of any venue so it's important to get it right. We can customise & tailor any audio system to suit the needs of the client.

We can also help with music playlists to ensure not only does it sound right the music sets the right atmosphere for the venue. We can also incorporate public address into any system, create zoned areas so different volume levels, source or public address can be used in different areas of a building.

We can offer systems with discreet control via a wall plate or tablet meaning the electronics & peripheral items can be stored out of site. Speakers can also be of a discrete nature via ceiling speakers, we can also offer full customisation to clients that want to make wall mounted speaker's part of the interior, colour theme or design of the room.

We have dealt with background music systems ranging from budget to bespoke achieving high quality sound and even sound distribution across the room.
Maintenance & Refurbishment.
A large portion of our work is maintaining audio visual equipment already in situ. We can provide a full maintenance solution on any existing audio visual equipment, regardless of whether the equipment was supplied and installed by ourselves or another audio visual company.

Should any items require specialist repair offsite we can offer a repair service from our network of service engineers.

We can also offer loan of tempory equipment to ensure the music or party doesn't stop. Please see below pictures of some of the refurbishment work we have carried out recently
Batida Bar - Weymouth, Dorset
We were asked by the client to design a high quality audio system for a small cocktail bar that had HiFi performance for background music and was also capable of high SPL equivalent of a nightclub whilst maintaining HiFi sound quality. This was to be from a small speaker box package that was to be custom painted to fit in with the décor and design of the bar.
Along with the satellite speakers we custom built a bass speaker to handle the low bass frequencies. This was designed and tuned using computer software to achieve the frequency and performance required. The speakers used were the LAB series from eminence that are a highly regarded speaker component suitable for low bass extension and able to produce high volumes without distortion. The speaker box its self was painted by local artist and decorator to match the corresponding wall it was sat against blending it in aesthetically with the rest of the room.

A bass speaker was a very important component to this system, it ment the speakers on the walls could be smaller and overall sound quality, performance and volume capabilities were increased.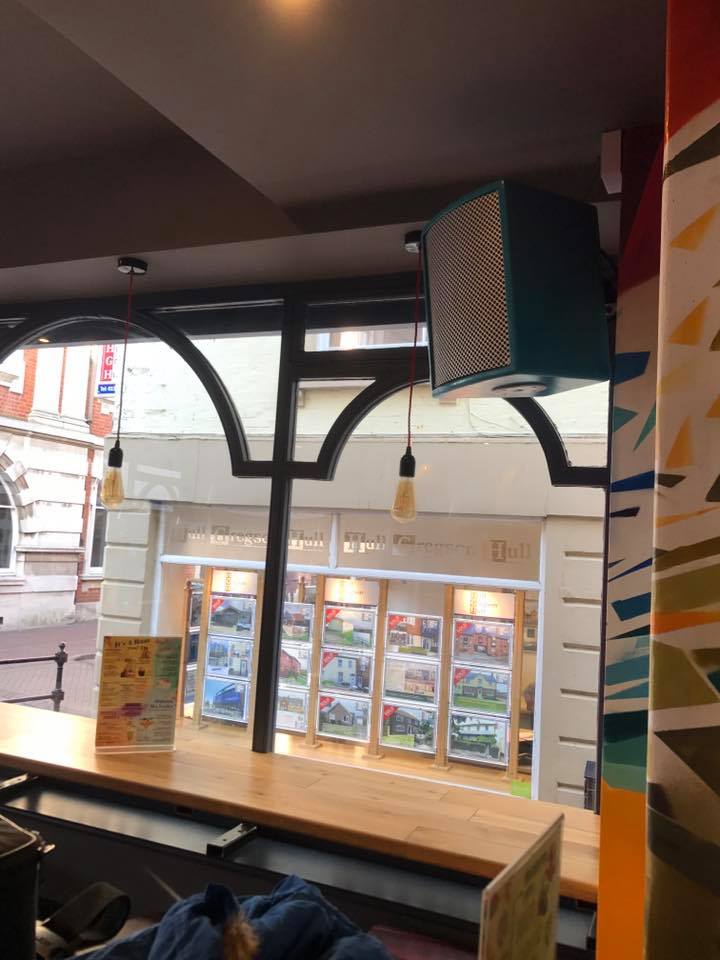 "These guys have done multiple jobs for me over the past three years, they've come in on, time and within budget on every single job. The standard of work has been nothing but professional. Would highly recommend anyone looking for a new install or maintenance to use these guys"
Wessex Audio's work and support at our bar over the years has been faultless. For over 6 years Wessex audio has supplied all aspects of audio for our bar, The Nook in Weymouth, they have installed an entire new sound system, maintained said sound system repairing when possible and replacing only when necessary. We cannot recommend these guys enough!!
"We have used Wessex audio for all our audio needs across our venues for a number of years, they are the go to company for audio with reliable service and competitive pricing. We have 3 venues where Wessex Audio have provided and looked after all our sound & lighting, they have a tuned ear to make our bars and club sound amazing"